How to decorate a room for the family
When I am working on styling a room, I think about the primary use. Who will be in here? What will they be doing? What should they feel like while they are in here?
Who is this space for?
Most of the time, it is a space that has to be functional for adults with growing kids in mind. Even if I am working out ideas for a space for adults with grown kids, I have to imagine that grandkids will be around someday.
What is staying?
Next, think about the things that cannot be changed or that you are not willing to change. For us, when we decided to update our kitchen, we were not willing to replace our granite countertops with a different color. They are not the color I would have picked but they are nice and expensive to change. For the family room, we decided that we were not going to paint or white wash the brick fireplace. It would have been easy enough and inexpensive enough to do, but we both decided that regular brick has a classic look and we were good with incorporating some classic looks.
The gold tray above is from Target.
What do you WANT it to look like?
When you flip through a catalog, what do you love? Pick out some pictures from catalogs or Pinterest and start to get some ideas as to what you would pick if you were able to have anything you wanted. Grab a stack of Pottery Barn and Restoration Hardware catalogs (a couple of my faves) and see what calls to you. Maybe it's a different store entirely. It may seem far fetched, but you would be surprised what you can do to your home on a budget.
Do you like carpeting? Do you like hardwood floors? Do you like the look of sinking deep into a leather chair? Maybe you cannot change it all at once but knowing what you want in the end will help move you in the right direction. Figure out what your vision is then start making small changes that will bring you closer to your goal.
I knew the day we moved in our house that I wanted hardwood floors, but it took us three years to get to the point where we could do them. Have you seen our hardwood floors? We did them ourselves for about $500. I blogged about it here.
I really liked the look of a worn, cozy leather chair. I picked up the ones pictured below at World Market.
This style is no longer available, but if I was buying them today, I would definitely buy these. They're rustic and welcoming. They'd look great with a faux fur throw.
The sweater throw pillow covers and the gray pouf I got online of course.
Pick some colors!
This is a really important part. Colors set the tone for the room and the mood.
One thing I have found to be very helpful is to try to keep things like paint, furniture, and flooring neutral colors. Then I layer colors into the items I am decorating the room with to give it some life and interest. It's much easier to change out some throw pillow covers, a throw, or blanket than it is to repaint.
Personally, I really like gray. It's something more calming than stark white, but versatile enough to dress up with curtains, linens, etc. When it came to the floor we wanted wood plank which is more difficult than it sounds. There are about 35 different kinds of wood stain at Home Depot and then another 300 online. It took several samples of stain to get the right floor color for the family room as well. We really wanted something that looked somewhat traditional and rustic but wasn't quite as trendy as the super light colored floors that are trendy right now. You have to figure out what you like and what goes with the vibe in your house. Yes I said vibe. I'm a hippie at heart.
Don't feel like you MUST go with trends. It can be fun to follow a trend and incorporate colors that are really hot. However, if you don't like redecorating often there are obvious advantages to staying away from trends. Think about how there are certainly color schemes that are emblematic of an era. For example, "Early Americana" from the 1980's with baskets and quaint country designs, pastels, and so much country blue, 1970's green and brown, 1980's modern styles with bold colors and shapes, mauve and bold colors from the 1990's, the taupe trend from the early 2000's. You definitely want to stay away from making things look completely dated, but you don't have to jump on the trend bandwagon either.
It's always easier to change things and update rooms when you stick to neutrals. I mean, if you decide to incorporate green, and you go out and buy a green sofa, then when you want to redecorate, you're going to have to buy a new sofa. That can get expensive and keep you stuck in a color scheme you no longer like. If green is trendy and you want to incorporate green it is so much easier to by a green throw, some accent pillow covers, or a relatively inexpensive rug, than it is to buy a new sofa. (Unless money is no object to you, in which case, congratulations!)
Staying neutral also makes it easy to change up the decor with the seasons. It is no secret that I LOVE decorating for holidays. I have bins and bins of fall, Halloween, and Christmas decorations. It's always nice to have a few seasonal items out. Christmas isn't the only time of year to get into!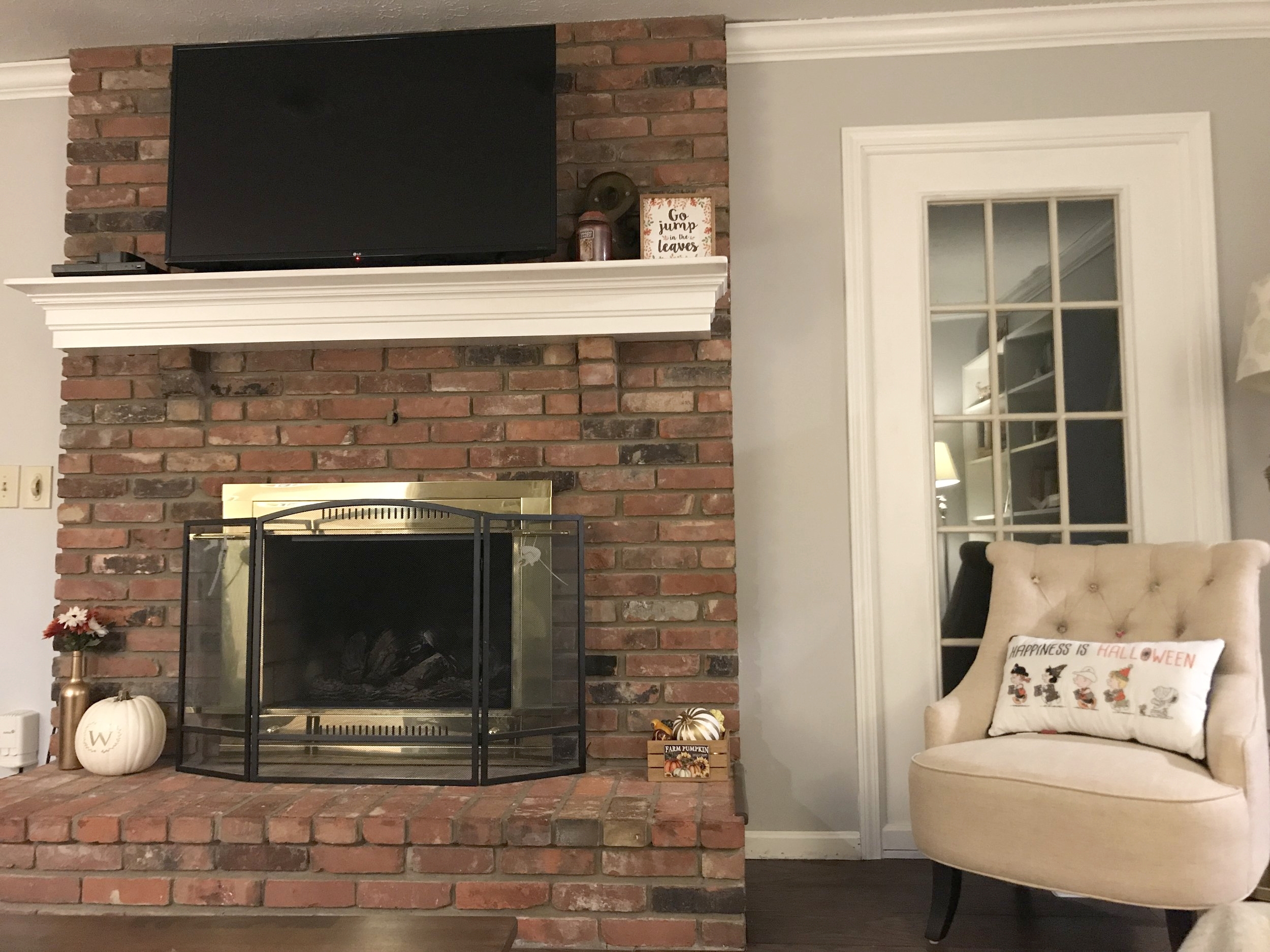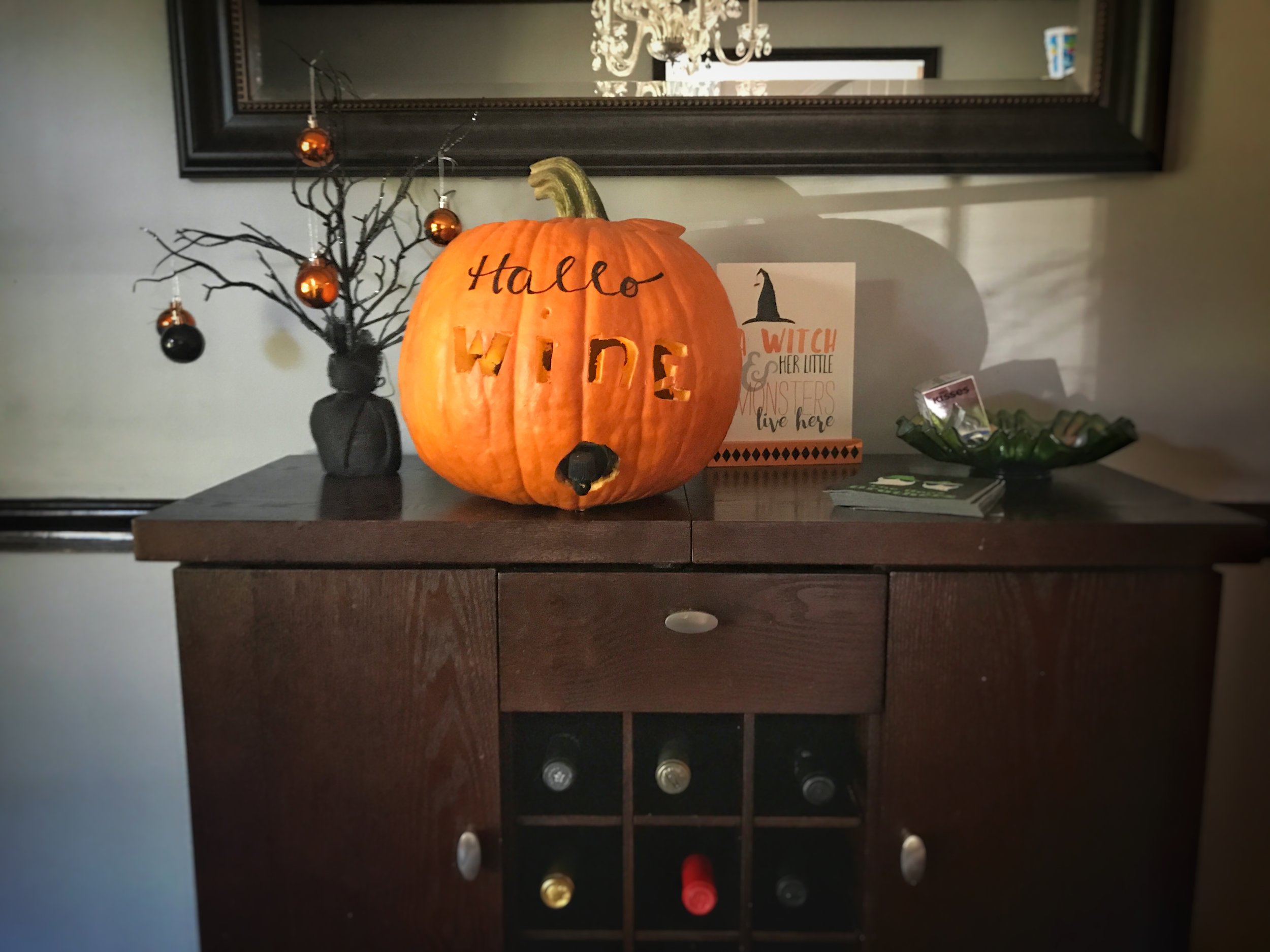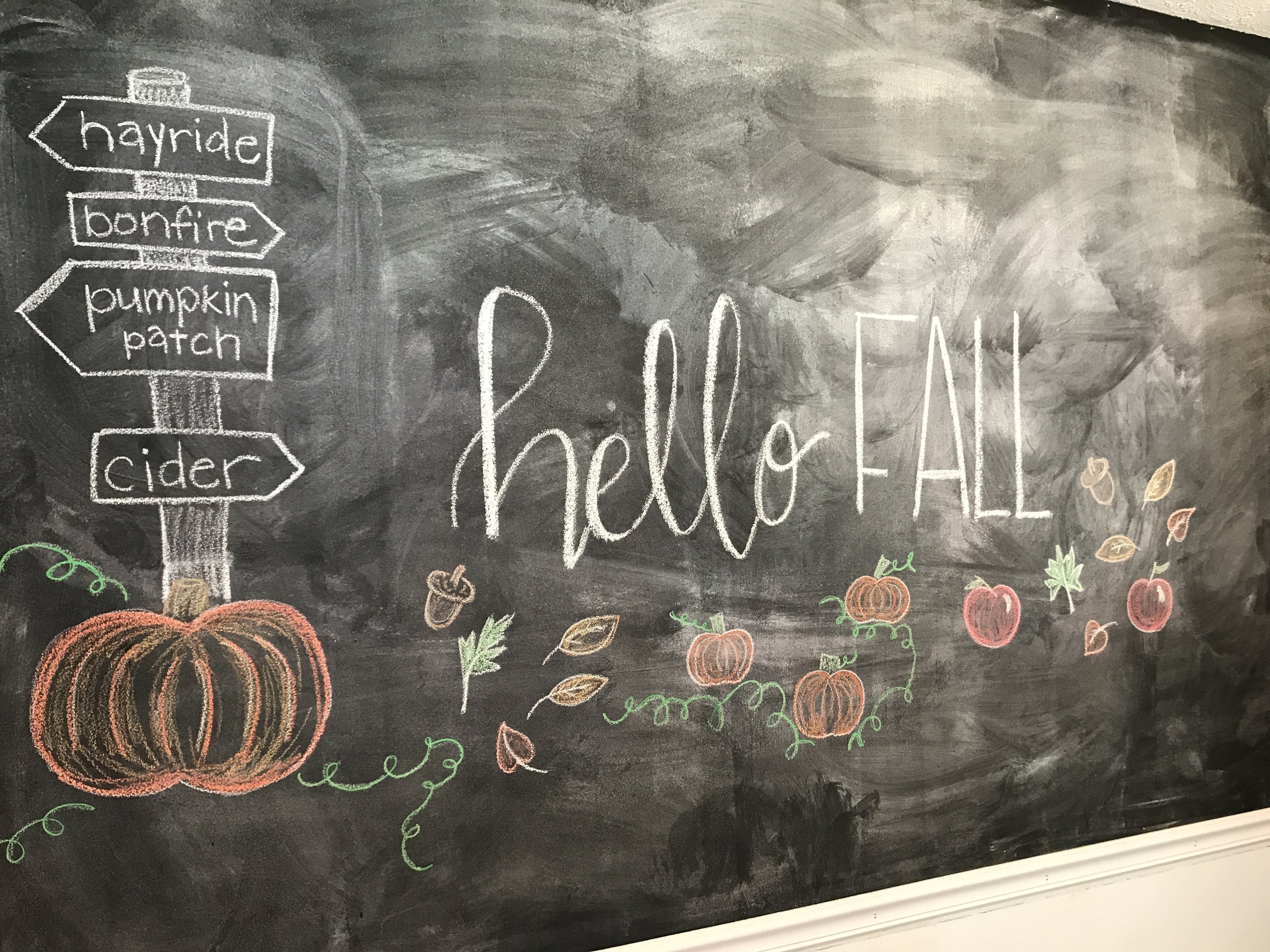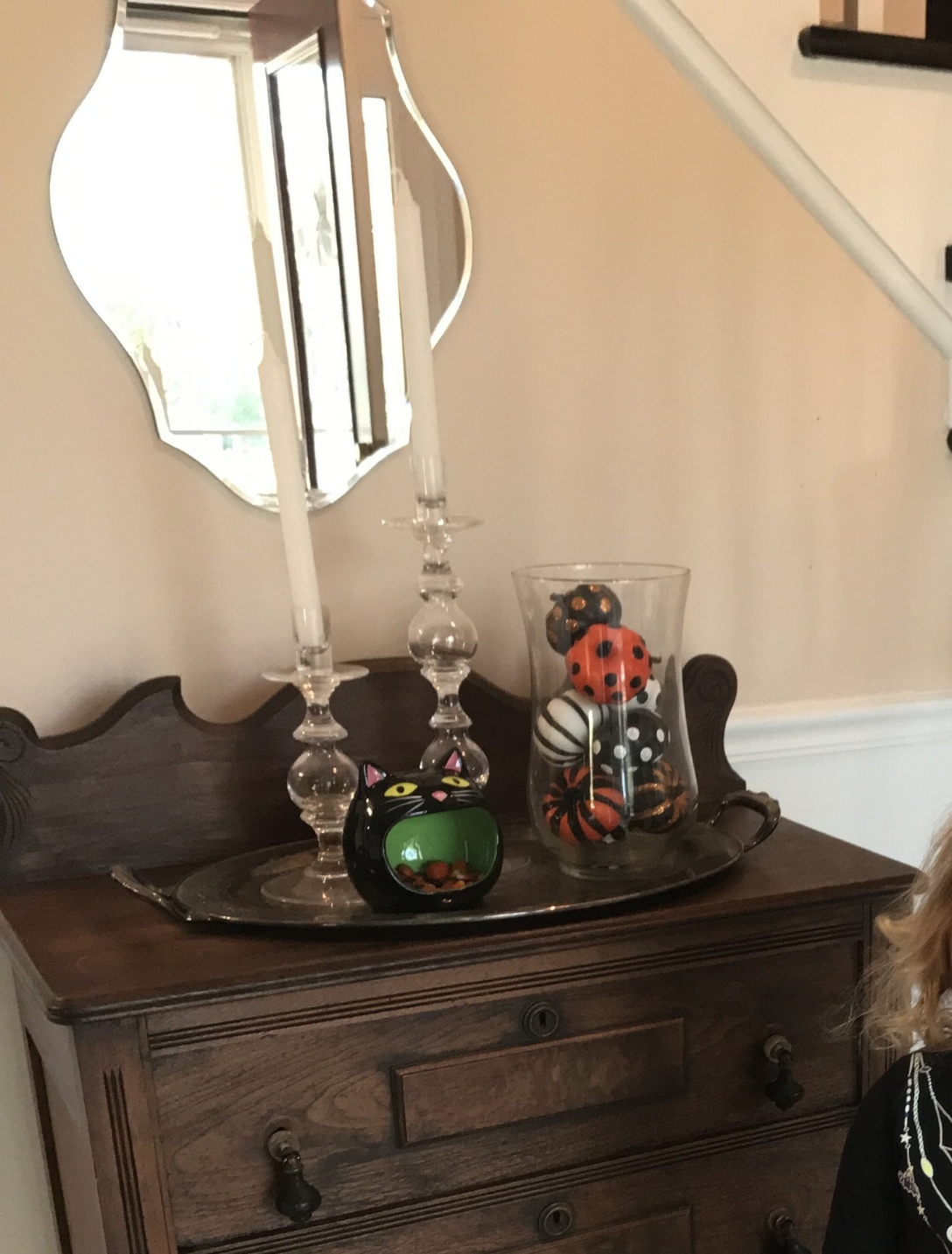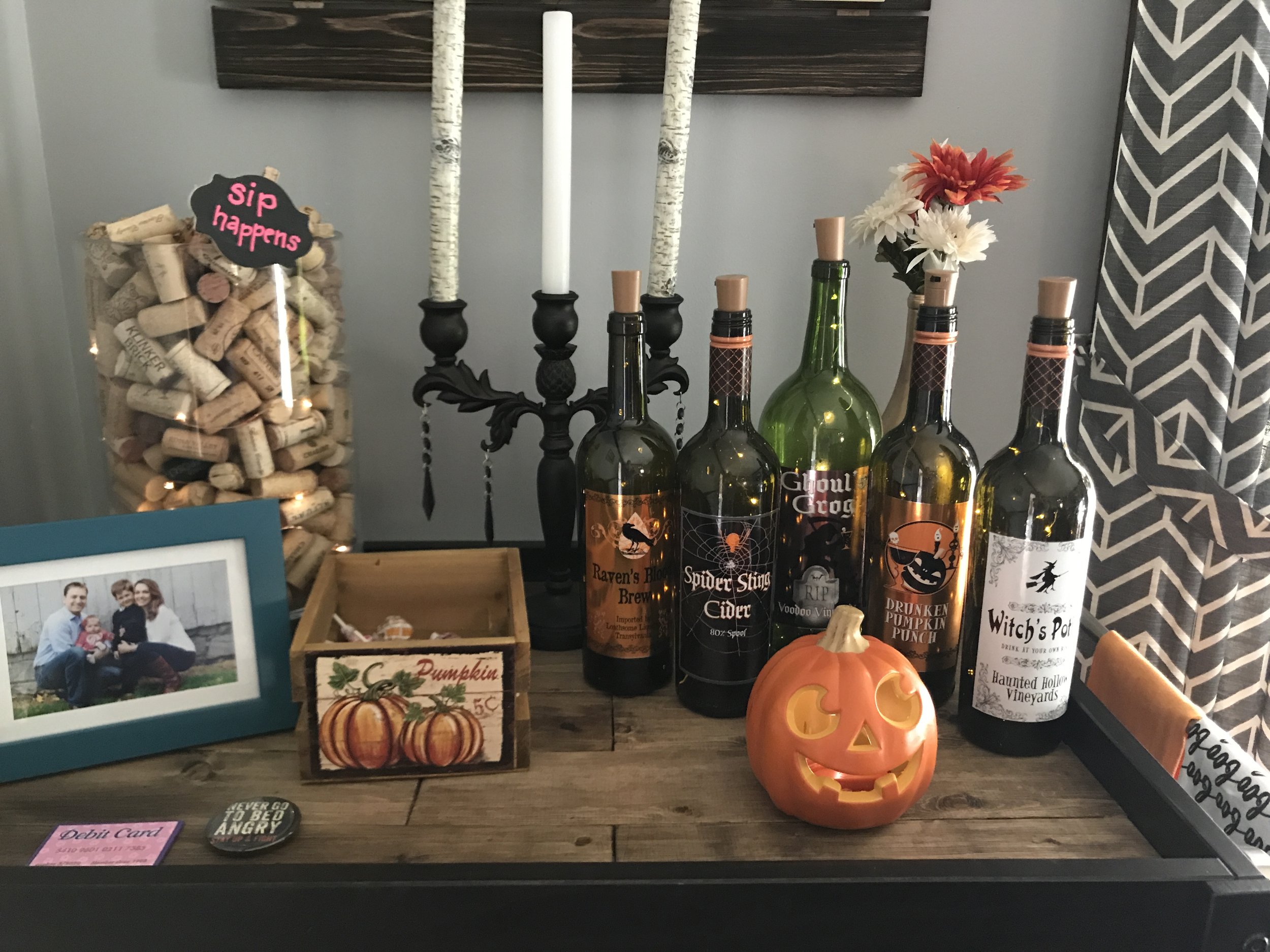 Fall colors like orange, yellow, light green, and red, or orange and black for Halloween are very different than what you would have out at Christmastime. When January 1 rolls around, red and green is stale and it's time to make your home cozy and welcoming in a different way. When spring hits, it's fun to get some spring pastels out and lighten the mood. Then summer is full of bright and fun colors. The waning days of August lead back into fall colors by early September. It's nice to look around the house and be lifted into the season.
Get yourself some quality storage bins for these items. Boxes are a pain and you can't see what is inside. I really like these bins made by Ziploc. I talked about how great they are in one of my Mom Hack posts. I use all the different sizes on here.
Make inexpensive updates where you can.
Redecorating or even decorating all at once is expensive. If you are not independently wealthy (hello, this Mama right here!) and you have kids to raise then this might take some time. It took us about three years to get our house to a point where we really don't feel like ripping apart every room. And then when you think about outdoor work .... sigh.
So we took it step by step and we are still to this day taking some inexpensive shortcuts.
One of the things we did to update an old sofa was up pop a slip cover on it. I mean, the sofa is great. It somehow survived a lot of different phases of my life and is still super comfy. It would be a shame to spend a bunch of money on a new sofa when we have one that is perfectly fine and kids that are burning money at a rate that rivals setting it on fire. Down below you can see our sofa in the three season room with a slipcover on it. I recently replaced the slipcover with a two piece slipcover so it will stay on the cushions better. I recommend it over a one piece slipcover.
Speaking of inexpensive updates I have bought furniture on mommy swap sites and such. I got a sofa (from Crate and Barrel originally!) for $15 on a mommy swap site for our play room. I made Terry check it out so make sure it was a legit sofa and not crawling with bed bugs, but it was perfectly fine! The nice family getting rid of it was redecorating. Why buy a new sofa for the kids to totally destroy!
Then I swap out my throw pillow covers to change the season. Up above I showed some of the cute sweater ones I found online, I just found this cute pineapple one for spring/summer and I also ordered some more fun and colorful ones for summer this year. I also like to update with some seasonal trays. I have also talked about my love of trays before.
What personal items represent you?
Find the items that you cherish and use them as a piece to plan around. Some people have family heirlooms that are important to them. Some people love pictures. Some people have a piece of art. You can use these items to develop a theme or even add a pop of color into your room.
I really like family photos, but I don't like them cluttering up the mantle and there isn't enough wall space in our house to display them all. These sit right behind the sofa in space that would not otherwise be used anyway. We built these shelves but you can buy something made by Ikea online and ship it free (we did for another room) and just put a few together depending on how long you want it to be.
When I decorated my dining room, I knew I wanted to incorporate this lovely curio cabinet that belonged to my grandmother. She gave me the china that belonged to her mother, and I have a few other nice things that are in here behind glass and away from the reaches of sticky little fingers. You'll also notice that I have a few treasures made for me by my kids. It may be odd to have the combination of fancy, antique, and handmade all together, but that is what my home decor is all about. It tells a story about us.
Knowing that this piece was important to me, I used it as my source of decorating. It's actually black, but you can't really tell because we stained the chair rail, the trim, and all of the other wood dark to coordinate. I have a contemporary looking table and wine cabinet and I didn't worry about the contrast in style because mixing pieces is what gives a room interest. Anyone can go to a furniture store and buy a matching set. It takes style to mix different pieces and bring them all together. Check out the photos of the room below. If you're interesting in learning about how to stain trim, I wrote about our adventures in staining here. We also made the bar cart in the corner out of a changing table which you can read about as well.
Per my color recommendation above, I chose a darker gray for this room. I am very happy with my choice because I have been able to really change up the color scheme of the entire room by using table linens and centerpieces. I got the curtains at World Market (they sold out but I linked to another really cute gray pair - this one is a different pattern that I actually like better) which is also where I get most of my linens for the dining room.
I also got this little antique cabinet below from my grandmother. I dress it up with some fun things, a tray (of course!) and a hurricane (from Target) of something seasonal.
Once you have the foundation for your room, you can add fun accents as you find them. It's overwhelming to get to the end all at once, but when you start with a vision and the basics, you can really let your plan develop over time. I'm really happy with the way my rooms have turned out and it was a journey to get there. I just kept picking up little pieces and accessories to keep me motivated until we got to the point where we were "done." (Are we ever done? Haha.)
I hope you found this helpful! I get a lot of questions about decorating and it has always been a passion of mine. Feel free to contact me with questions or tips of your own!