DIY Hardwood Plank Floors from Plywood
Update: We have now done this to THREE rooms in our house and we love them all. They have survived summer grass clippings, winter wet, salty boots, my high heels pounding them before I leave for work, and many family parties with drink spills.
DIY Hardwood Floors
We bought our lovely 1980's home knowing that we would have to put in some work to bring it up to date and to align with our tastes. We painted and stained the trim in the dining room within just three weeks of moving in, knowing that we would have to address the heinous carpet eventually. I really wanted to put in hard wood floors but they are very EXPENSIVE! With two kids, a mortgage, student loans, and other projects in the house to do, we just did not want to splurge on traditional hardwood flooring. Maybe someday.
Next, we looked at the engineered wood flooring. Even that was expensive and I could not really justify the price for something I knew I would have to replace in about 10 years. I felt like this flooring thing was out of my reach. Expensive and unaffordable for our current lives. A normal person might settle for laminate or bite the bullet and wait.
I am not normal. I am impatient. So I started snooping around the hardware store and the internet to see if I could find a suitable alternative. I read about folks using plywood as an inexpensive alternative to traditional hardwood flooring. A DIY project. Hook, line, and sinker, I was in.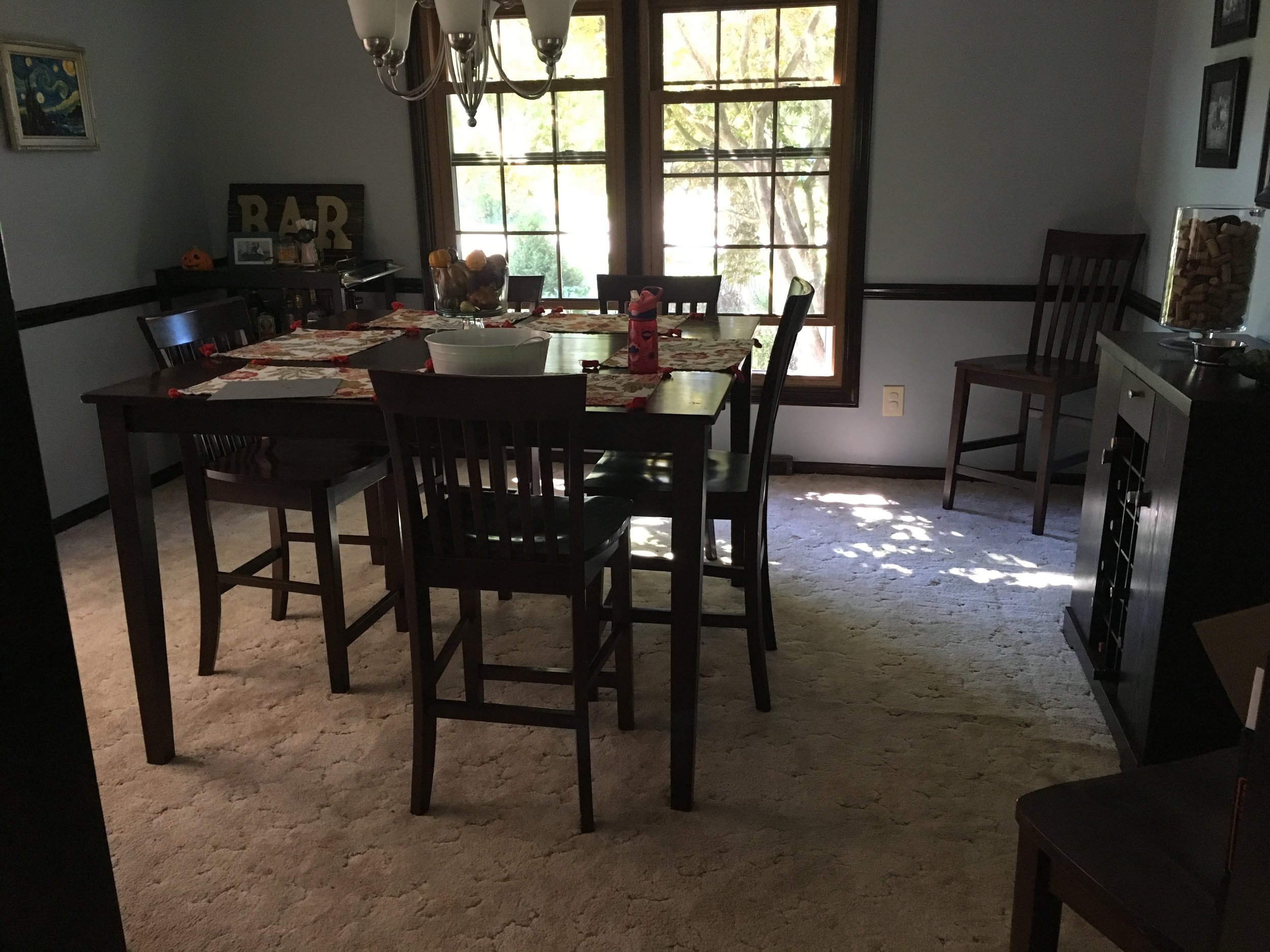 First: prep the floor
First things first, you have to remove the old stuff. We had to get rid of (horrid) carpet. T pulled up the carpet and the padding, rolled them right up and carried them to the curb. Then he pulled up the baseboard and put them in the garage. We did not get rid of them because we had to put them back up after the flooring was down. They stayed in the garage during project time.
Next, you have to get the garbage left behind by the old stuff. In our case, this was the staples the builders used to lay the carpeting. I have to say that the number of staples they used was absolutely asinine. Nevertheless, we had to remove them all. I vacuumed all of the other residual stuff up with the shop vac. Now we had an area to work with.
Second: prep the floor boards
We used red oak plywood boards from Home Depot. The boards were about $50 each (sometimes they are on sale for $35!) You can find them here. T had Home Depot cut the boards for a nominal fee. They were cut into 8 inch strips and WITH the grain.
We had a major issue with the first time we ordered the wood. They cut it AGAINST the grain. Why would anyone do this? I have no idea. We took them back and Home Depot graciously replaced them. It sounds simple now but believe me, it was a fiasco that wasted the better part of a day. Moral of the story: make sure you specify that the wood is cut with the grain.
While you're at Home Depot or the hardware store, make sure you pick out a stain. For this room we used a very dark stain since it went with the rest of the items in the room, but we used something lighter (that I actually prefer) for the family room.
Next: Sanding
Invest in a decent sander. I purchased a random orbit sander from Amazon. T used either 120 or 150 grain sandpaper to do the floors. He says they both work well.
You have to sand every single one of the boards and it is a slow process. This was the most time consuming part of the project.
Next, to get a more smooth finish, you should sand each board by hand with 220, and then 400 grain paper. We have learned to divide up this work. Usually he does the random orbit and the 220 and I run over it all with the 400.
EDIT: UPDATE!
We just completed our THIRD room this way. We did the floors in our bedroom. This time, we nailed them down and THEN stained them. It went a lot faster! I would only do it this way from now on because it saves a ton of time. Don't forget to wipe up the excess stain!
Staining
Staining is fun because you are getting close, but very messy! We have developed a process for staining. I first put on rubber gloves (like medical grade stuff that I use when I'm cleaning up barf) to keep the stain off of my skin. Next I put an old sock over the hand that I am going to use to stain. Then I dip a rag into the can of stain and apply it to the board. Once you apply the stain, you should run over the board with a dry rag to remove the excess stain. We have done these inside and outside. The darker ones were our dining room and the lighter ones went into the family room. You can find the lighter the stain here, it's Dark Walnut in Varathane. And here is the darker stain, it's called Kona.
We put the wet boards on old pallets in our grass and let the sun dry them. Once they are dry we stacked them and either moved them to the garage or basement depending on how long we wanted to wait before laying them in the room.
The second time we did this we started the boards inside during the winter and leaned them against a wall to dry. Then we put them in the basement until we were ready to lay them. (Months later.)
Third: lay them down
Once the boards were dry we arranged them in the room with spacers. When we did this again in another room, we skipped this step. Every time we did the project it was during a hot month and we figured that with the imperfections in the board edges, the fact that it was not going to get much hotter in our home, and the way they ultimately looked when they were laid down, this was not really entirely necessary. I would recommend checking it out for yourself and certainly using the spacers in a colder time of year.
As far as layout pattern we just did one row from one side of the room, then started the next row from the opposite wall. You can see in the photo above that this creates spaces up against the wall.
T measured these smaller spaces and cut boards individually to each space. It would make sense that they would all be about the same size, but oddly, they were not. So each one has to be cut slightly separately. If you have baseboard to put back up, it does cover small spaces from the wall. So it gives you a little wiggle room.
This is the REALLY fun part. We used liquid nails to fix them down to the floor. I linked to the gallon size container because you need a large amount. We used a grout spreader to lay this. I recommend doing one row at a time, and then making sure they are where you want them before you nail them into place with the nail gun. We don't own a nail gun, fortunately our next door neighbor does and let us borrow it.
We did two nails on each end of the board and two in the middle since they are long planks, in order to make sure they stay down.
At this point it really comes together. I got really excited to see what the floor would ultimately look like when we were done.
EDIT: This is when we stain them now!
Fifth: clean them up!
After we swept up the debris and vacuumed (thankfully we were gifted a shop vac at some point) the floors were still dusty. We were not sure how to clean these, but I just took a chance and used my swiffer wet jet and it worked just fine. A small amount of stain came up, very small, but it was fine. This worked so well that I used this method with subsequent rooms.
Finally: finish it off!
So now you have wood floors and you need to protect them. I did a bunch of research into polyurethane products to figure out what was the best to use in our house.
We settled on a water based poly so it would dry faster and not eat our insides with the chemical smell. It's really a solid product and holds up well to the rough and tumble of kiddos, high heels, snow boots, and wild family parties. You can find it here. I have also used it for MANY other projects like shelves and we coated our dining room table with it when we refinished it (after a forking incident - that's right ... forking.)
You need a special applicator to lay the poly on the floor. It has a space to fit a handle that you would screw in like a push broom handle. You might already have one of those or you can pick one up at Home Depot. Make sure that you follow the instructions on the package for the lambswool pad and rinse it before you use it or you will end up with fibers stuck in your poly coat.
The poly goes on kind of thick and it looks milky when you first lay it down. Don't despair. It dries clear and even if you just do a decent job of coating the whole floor. We waited about six hours then applied a second coat.
Freshly finished with poly
It looks wet, slightly cloudy, and weird. Don't worry, it dries beautifully.
You're done!
Now you need to let it dry. We let ours dry overnight then moved the furniture back in. Laying our own flooring has been one of the most gratifying projects we have ever done. It completely changes the look and feel of the room. The dining room after is below, and I have included some before and after photos of the family room and office. It was such a large space that we had to do that project in two phases (which, being impatient, I obviously hated.) Just look at the before and after photos and you can see that it was well worth the time and effort.
Some more photos with the rug and decorated for the holidays.